---
For the most recent news see the
Home Page
---
March 2016
Symfocity on
Internetradio One



Two years ago STARIPS-RadioPC was not able to continu the broadcasts on the internet. But they are back, now under the name "Internetradio One". Just as at STARIPS-RadioPC, you can listen to Symfocity via their stream.

Internetradio One
every Thursday 20:00 - 22:00u


---
December 2015


Celebration
1000th Edition of SymfoCity


Symfocity started about two decades ago. In the mean time we made already 1000 broadcasts and extended our audience from Apeldoorn only to four cities in the Netherlands and are also world wide available via the internet. We celebrated this with a special edition. We invited all present and former team members and interviewed them about their role in Symfocity and played the track they selected for this special occasion.

It has been recorded on Monday 14-Dec-2015 (live on RTV Apeldoorn). You can download the recordings with these links: hour1, hour2.





Wim Brouwer cuts the cake. Martinka Zandijk approves.
Congratulations from Station Manager Theo Witlox.
From L to R: Ron Lammers (standing), Theo Witlox, Bert Fokkens, Wim Verweij and Hans Harleman.
From L to R: Theo Bongers, Hans Harleman and Theo Witlox


From L to R: Ron Lammers (offering champaign), Martinka Zandijk, Bert Fokkens, Wim Verweij and Hans Harleman.
Special cake with logo



---
December 2015


Goodbye Martinka


Martinka Zandijk joined our team in August 2010. We appreciated her contribution very much. Not only because of her professional presentations (the first female voice in the Symfocity history!) but also because of her musical input and knowledge.

She had to set priorities in her agenda. Mothership (earlier this year she gave birth to a son) and her job leaving too little time to continue with Symfocity. We hope we soon will find a good successor for her.


Thank you very much, Martinka!

---
Farewell Wim Verweij

Wim Verweij joined the Symfocity team in 2002. After more than twelve years he decided to call it a day to free up more time for his private obligations. His professional way of presenting was very much appreciated and we regret (but respect) his decision to stop. As a team member he was always searching for interesting albums and a friend with whom you always could have fine discussions about music and other things.

His last presentation was in week 1451, but two weeks later we will broadcast a pre-recorded special with his personal selection of music.


Thank you very much, Wim !

---
Broadcast schedule change:
Radio Deventer

Symfocity is now on Deventer RTV every Monday evening 21:00-23:00 hr (was 23:00-01:00 hr)


---

Broadcast schedule change:
Radio Voorst broadcasts suspended

Unfortunately Radio Voorst had to suspend all activities because they were not able to comply with the Dutch laws for broadcasting stations because of lack of volunteers. Regarding the hugh amount of responses, a team is investigating the possibilities to restart.


---

Broadcast schedule change:
STARIPS RadioPC suspended

Unfortunately STARIPS RadioPC appeared not to be viable. All broadcasts are suspended.



---
Goodbye Simon

From l to r: Simon v/d Linde, Hans Harleman and Wim Verweij



Simon decided to stop with the SymfoCity presentations per the end of 2013, after 7 years of duty. Hans Harleman will be his successor. The broadcast #897 was his last live performance, but he will continue to make a few specials for us. The first one is #898, fully dedicated to his farewell.


Thank you very much, Simon !


---

Symfo City also on local radio RTV-Raalte

July 13, 2011 we had our first broadcast on RTV-Raalte radio. From that moment onwards our program is on 5 local radio stations: Apeldoorn, Voorst, Deventer, Ede and Raalte.
We are scheduled on Wednesdays 20:00-22:00 hr. Broadcast frequencies are 104.1Mhz (cable) and 105.1Mhz (Aether).
You can also listen to their streaming audio, the links are on the RTV-Raalte website.

We welcome the new listeners!


---
January 2011:



Symfo City also on local radio Ede-FM

In December 2010 we completed the negotiations with Ede-FM to include SymfoCity in their radio program. Ede is a town in The Netherlands located about 30km south-west from Apeldoorn. We are scheduled on Tuesdays 16:00-18:00 hr (prime time!) and Friday evening (/ Saturday morning) 0:00-2:00hr.

Broadcast frequencies are 93.1Mhz (cable) and 107.3Mhz (Aether).
You can also listen via the Internet. One big advantage is that Ede-FM also has a podcast option, called 'Uitzending gemist'. You can listen to the SymfoCity broadcasts any time you want.


---
January 2010:

New SymfoCity logo


A new year, a new face: New logo

Laurens, the son of our SymfoCity Team member Wim Verweij has designed a new SymfoCity logo for us based on our specifications.
| | |
| --- | --- |
| | |
| old logo | new logo |

In this new logo the two main solo music instruments for this genre are depicted, the guitar and the keyboards ("M"). We would like to thank Laurens very much. If you want to learn more about his activities, please visit his website www.elverx.com.


---
December 2006:

New SymfoCity Website URL

Many visitors of our website used the internet service "welcome.to" as a gateway to our website. Unfortunately the provider of this service installed very annoying pop-ups for advertisement. We found the best solution by creating our own domain:



www.symfocity.nl

You can update your favorites now!


---

SymfoCity also on Deventer Radio !!
Again a significant range extention

Per 15-Sep-08 also the listeners of Deventer Radio can enjoy our radio program. SymfoCity is now on three broadcasing stations and via the Internet simultaniously!





For playlists see our playlist page
---

SymfoCity back at Radio Apeldoorn !!
Significant range extention

Per July 22nd 2007 Symfocity will restart broadcasting at Radio Apeldoorn. Four years ago the management decided to go for "horizontal programming" in which the SymfoCity concept didn't fit anymore. Luckily "LOV-Radio"/"Radio Voorst" offered us two hours of broadcasting time per week so that we could stay in the air. Voorst is close to Apeldoorn so that some (but not all) loyal listeners could receive us but only via the aether. See the announcement below.
Recently the decision has been reversed, and we will be back on the cable in Apeldoorn. This extends our range significantly because we will continue with Radio Voorst. SymfoCity is now on two broadcasing stations!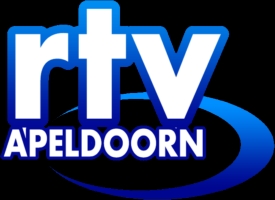 For playlists see our playlist page
---

Switch from Radio Apeldoorn to LOV-Radio

Up to May 2003 SymfoCity Radio was hosted by Radio Apeldoorn, a Dutch local radio station. That month we got the message from the management that the evening programs were restructured (horizontal programming) and that there was no place for the various niche programs like SymfoCity.
Of course the SymfoCity Team didn't quit that easy. We searched for a new host and found one: LOV-Radio, the local radio station of the municipal "Voorst". Besides the transmission via the local cable network, also reception via the eather is possible in a wide range around Voorst. The cities Deventer, Zutphen and (yes !!) also Apeldoorn can receive LOV-Radio.
The SymfoCity Team got a warm welcome. The studio is well equipped (see below), and since September 8th 2003 we were back in the air again! Same day, same time.



For more information about LOV-Radio, click on the logo (Dutch language).




The LOV-Radio Studio
Take a look!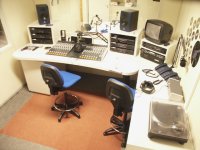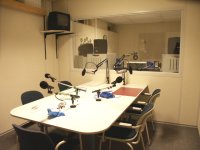 The control room, click to enlarge(287kB)


The presentation room, click to enlarge(287kB)


---
Interview SymfoCity Team in iO-pages


In the summer of 2004 Antonie Deelen visited us for an interview for the well known Dutch magazine "iO-pages". They would like to put people in the spotlights who promote Symphonic and Progressive Rock actively. In the July 2004 issue, two pages are dedicated to our radio program.
Read the article




---
Our URL: http://www.symfocity.nl
Email address: symfocity@hotmail.com


---
Last update June 21, 2016


All Rights Reserved - (C) 2015 by Symfo City ProgProductions