Symfo City ProgPages

Kramer

Spotlight Artist


Live performance in SymfoCity


Monday February 21st, 2005 19:15hr. When I arrive at the LOV-studio early in the evening it looks quite chaotic. All kinds of equipment is spread over the limited available floor space, and a spaghetti of cables makes it difficult to reach the other side of the room. But Aart Harder, the sound technician of Kramer, has everything perfectly under control. Soon the sound check can start and after setting up the connection with the radio control room everything is ready in time.
When we are on the air, Theo is introducing the band Kramer, formerly known as Lorian. A year ago Marc Besselink was a guest in our program (see the Lorian Spotlight page) and there the idea of a live performance was born. In the mean time there were some changes in musicians and the name of the band was changed to 'Kramer'. But they still play the same music ('LifeCycle') and are working on a new concept under the working title 'Man in the parc'.

The present line up is:
| | | |
| --- | --- | --- |
| | Marc Besselink | Piano/Lead vocals |
| | Harald Veenker | Drums (his first public performance with Kramer) |
| | Jeroen Vriend | Bass |
| | Rob de Jong | Guitar |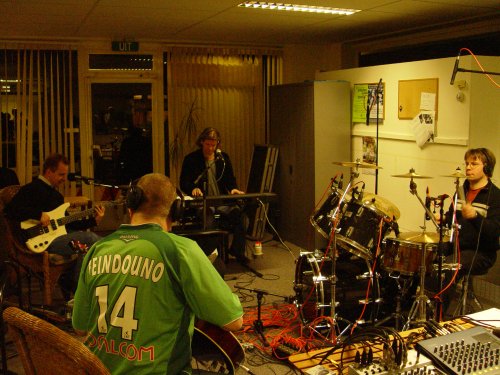 They played four songs: 'Homecoming', 'Farewell', 'Identity' and 'Man in the parc'.
The music is inspired by Marillion and also associations with the Dutch band Kayak came up.
Audio and video samples of some of these songs can be obtained from their download page.

After the first two songs Theo asks Marc and Jeroen about the their background and plans.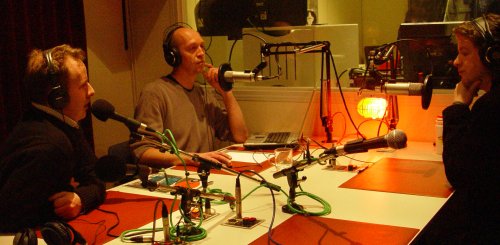 After the interview they played two more songs, from which the last one is part of their new project 'Man in the park'. That concluded the successful live performance. Later this year they plan to record an album. We will certainly pay attention to that in our broadcasts!

If you are interested in the live performance and interview (in Dutch), it is available on the LOV-Radio Archives disk 5C. To obtain a copy please contact us.

Website: http://www.kramer-music.nl

---
Our URL: http://www.symfocity.nl
Email address: symfocity@hotmail.com


---
Last update June 21, 2016


All Rights Reserved - (C) 2015 by Symfo City ProgProductions