Symfo City ProgPages

TOP15 - 2011

Symfo City ProgPoll 2011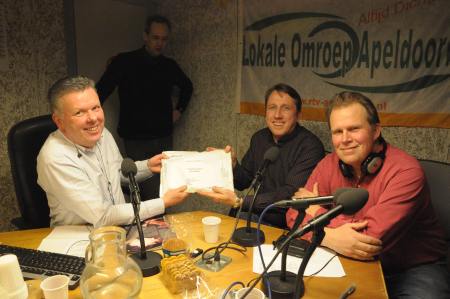 We would like to thank you for sending your TOP10 of the year 2011. After counting all the votes it became clear which albums are the most favourite.

The winner of the set of CD's is Thierry Jans from Uden. He visited our studio to receive the set and tell about his personal preferences.


Picture (from left to right): Wim Verweij, Wim Brouwer (back), Thierry Jans and Simon v.d. Linde.


---
The 2011 ProgPoll Results.
Airbag -
All Rights
Removed
Yes -
Fly From Here
Knight Area -
Nine Paths
Sean Filkins -
War And Peace &
Other Short Stories
Anubis -
A Tower Of
Silence
Dream Theater -
A Dramatic Turn
Of Events
Blackfield -
Welcome To
My DNA
Introitus -
Elements

Credo -
Against Reason
Arena -
Seventh Degree
Of Separation
Leap Day -
Skylge's Lair
Steve Hackett -
Beyond The
Shrouded Horizon
Pendragon -
Passion
Le Orme -
La Via
Della Seta
Pallas -
XXV
Click on the pictures for more information (they also have links to reviews & MP3 samples)
| | | | |
| --- | --- | --- | --- |
| 1 | - | Airbag | All Rights Removed |
| 2 | - | Yes | Fly From Here |
| 3 | - | Knight Area | Nine Paths |
| 4 | - | Sean Filkins | War And Peace And Other Stories |
| 5 | - | Anubis | A Tower Of Silence |
| 6 | - | Dream Theater | A Dramatic Turn Of Events |
| 7 | - | Blackfield | Welcome to my DNA |
| 8 | - | Introitus | Elements |
| 9 | - | Credo | Against Reason |
| 10 | - | Arena | The Seventh Degree of Seperation |
| 11 | - | Leap Day | Skylge's Lair |
| 12 | - | Steve Hackett | Behind the Shrouded Horizon |
| 13 | - | Pendragon | Passion |
| 14 | - | Le Orme | La Via Della Seta |
| 15 | - | Pallas | XXV |

---
Our URL: http://www.symfocity.nl
Email address: symfocity@hotmail.com


---
Last update July 12, 2016


All Rights Reserved - (C) 2016 by Symfo City ProgProductions