Symfo City ProgPages

TOP15 - 2013

Symfo City ProgPoll 2013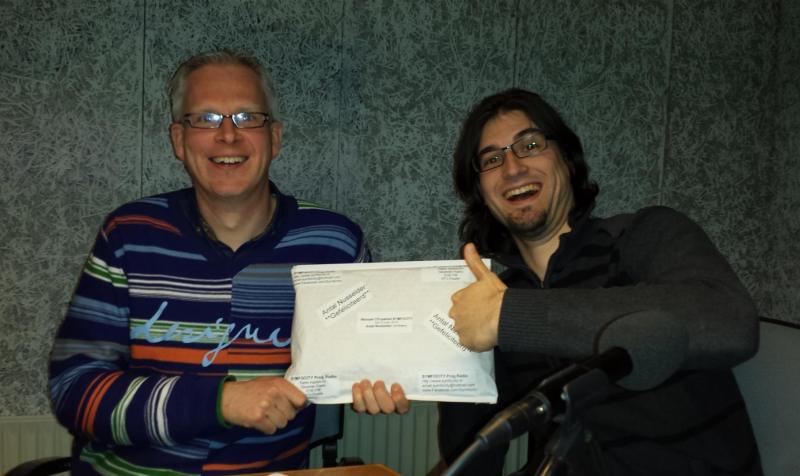 Hans Harleman (left) hands over the CD set to Antal Nusselder

We would like to thank you for sending your TOP10 of the year 2013. After counting all the votes it became clear which albums are the most favourite. In two broadcasts we presented the albums. Check the 'PlayList' page for download links of the radio recordings.

The winner of the set of CD's is Antal Nusselder from Arnhem. He visited our studio on the 17th of February and received the special set of CD's. Note that RTV Raalte, Deventer Radio, EDE-FM have

one week

delay (see home page).

Don't miss it!

The final results:

---
The 2013 ProgPoll Results.
Click on the pictures for more information (most of them also have links to reviews & MP3 samples).
| | | |
| --- | --- | --- |
| 1 | Steven Wilson | The Raven That Refused To Sing |
| 2 | Anima Mundi | The Lamplighter |
| 3 | Airbag | The Greatest Show On Earth |
| 4 | Big Big Train | English Electric Part Two |
| 5 | La Maschera Di Cera | Le Porte Del Domani |
| 6 | Spock's Beard | Brief Nocturnes And Dreamless Sleep |
| 7 | Riverside | Shrine Of New Generation Slaves |
| 8 | The Rome Pro(g)ject | The Rome Pro(g)ject |
| 9 | Traumhaus | Das Geheimnis |
| 10 | Comedy Of Errors | Fanfare & Fantasy |
| 11 | Haken | The Mountain |
| 12 | Days Between Stations | In Extremis |
| 13 | Flamborough Head | Lost In Time |
| 14 | Sound Of Contact | Dimensionaut |
| 15 | Magenta | The Twenty Seven Club |

---
Our URL: http://www.symfocity.nl
Email address: symfocity@hotmail.com


---
Last update July 12, 2016


All Rights Reserved - (C) 2016 by Symfo City ProgProductions