Symfo City ProgPages

TOP15 - 2014

Symfo City ProgPoll 2014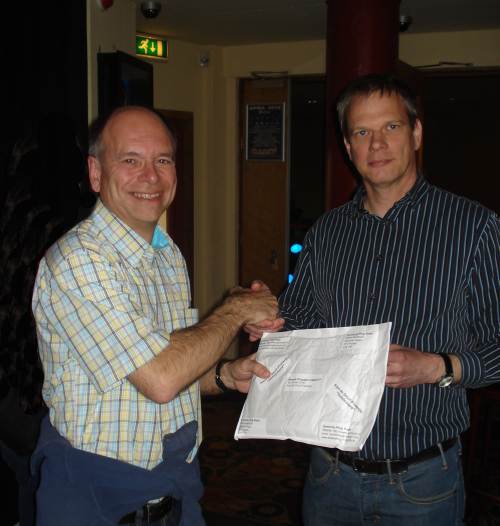 Arthur hands over the CD set to Arjan de Groot (r)

We would like to thank you for sending your TOP10 of the year 2014. After counting all the votes it became clear which albums are the most favourite. In two broadcasts we presented the albums.

The winner of the set of CD's is Arjan de Groot from Alblasserdam (NL)/ Sainte Tulle (F). Unfortunately he was not able to visit our studio but we found another opportunity to hand over the special CD set.

You can download the broadcasts from our website:

Positions 15-12 Positions 11-8 Positions 7-4 Positions 3-1

Don't miss it!

The results:

---
The 2014 ProgPoll Results.





Second
Bjorn Riis
Lullabies In A Car Crash

Winner!
IQ
The Road Of Bones





Third
Huis
Despite Guardian Angels

LogoS
L'Enigma Della Vita
Monarch Trail
Skye
Anathema
Distant Satellites
Introitus
Anima
Opeth
Pale Communion
Pendragon
Men Who Climb Mountains
Pink Floyd
The Endless River
Lunatic Soul
Walking On a Flashlight Beam
Minor Giant
On The Road
Nick Magnus
N'Monix


Silhouette
Beyond The Seventh Wave


Steve Rothery
The Ghosts Of Pripyat


Click on the pictures for more information (most of them also have links to reviews & MP3 samples).
| | | |
| --- | --- | --- |
| 1 | IQ | The Road Of Bones |
| 2 | Bjorn Riis | Lullabies In A Car Crash |
| 3 | Huis | Despite Guardian Angels |
| 4 | LogoS | L'Enigma Della Vita |
| 5 | Monarch Trail | Skye |
| 6 | Anathema | Distant Satellites |
| 7 | Introitus | Anima |
| 8 | Opeth | Pale Communion |
| 9 | Pendragon | Men Who Climb Mountains |
| 10 | Pink Floyd | The Endless River |
| 11 | Lunatic Soul | Walking On a Flashlight Beam |
| 12 | Minor Giant | On The Road |
| 13 | Nick Magnus | N'Monix |
| 14 | Silhouette | Beyond The Seventh Wave |
| 15 | Steve Rothery | The Ghosts Of Pripyat |

---
Our URL: http://www.symfocity.nl
Email address: symfocity@hotmail.com


---
Last update July 12, 2016


All Rights Reserved - (C) 2016 by Symfo City ProgProductions